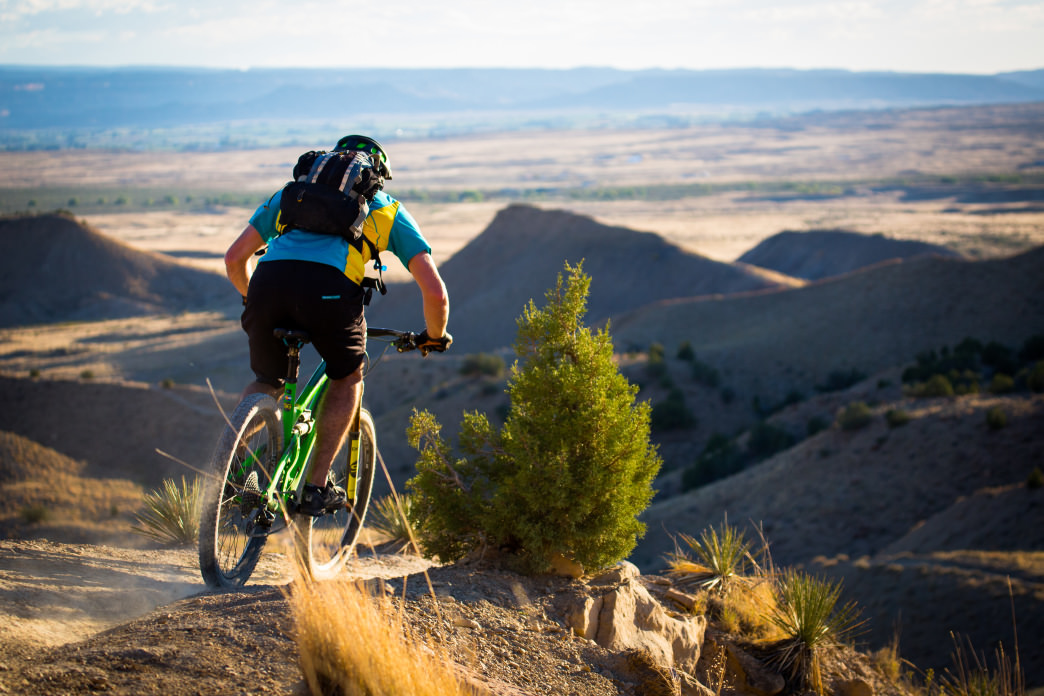 The Story of How Mountain Biking Saved Fruita
| Blog
"The unique thing about Fruita," says City Manager Mike Bennett, "is that visitors feel like locals and locals play like visitors." It's easy to see why: this Western Slope town is just minutes from the deep sandstone canyons of Colorado National Monument and McInnis Canyons National Conservation Area, home to the second-largest concentration of natural arches in the world. The Colorado River runs through the city, offering miles of flatwater paddling and access to the famous Ruby-Horsethief stretch. It's basically a basecamp for adventure on the Colorado Plateau—especially for mountain bikers.
Fruita's mountain biking scene launched in the mid-90s, but the area's history dates back much farther. The town was established in 1884, and less than 20 years later, paleontologists were excavating the Jurassic-era fossils of brontosaurus and brachiosaurus. They're still considered some of the finest fossil specimens ever discovered, and visitors can check out fossils and replicas at the Museum of Western Colorado'sDinosaur Journey Museum.
Nearly a century after Fruita's incorporation, when the town was still quite small (around 4,000 people), a group of passionate mountain biking locals realized they were sitting on a gold mine. In 1995 they opened the city's first bike shop, Over the Edge Sports, and also started the Fat Tire Festival and 18 Hours of Fruita, now one of the Western Slope's most beloved endurance events.
The rest, as they say, is history.
"It is definitely a story of passion, dreams, risk, and sticking with it," Bennett says, "that turned out awesome." More than 20 years later, this iconic scene is still going strong.
Several local groups have been crucial in the Fruita mountain biking scene's remarkable success. Over the Edge Sports is now a household name in mountain biking, and has opened shops in several other states, too (plus Australia). OTE hosts the Fat Tire Festival every April, rents out top-of-the-line demo bikes, and has been a key player in putting Fruita's phenomenal mountain biking opportunities on the map.
Visiting mountain bikers seeking a seriously spectacular experience should head to Colorado Backcountry Biker, another Fruita staple offering budget-friendly, self-guided hut trips on the Uncompahgre Plateau. Known as one of the best bike tours in the country, CBB trips transfer bikers' baggage from one hut to the next and provides both food and a shuttle service.
The nonprofit, member-supported Colorado Plateau Mountain Bike Trail Association (COPMOBA) has also been an essential component of the local mountain bike scene. Founded in 1989, COPMOBA builds and maintains trails, works to preserve singletrack, and educates mountain bikers on responsible riding. They've organized volunteers on more than 200 trail maintenance projects since 1991, plus countless clinics and group rides.
Collaboration between local government and land management agencies is a key part of making the riding in and around Fruita possible, too. The Bureau of Land Management's Grand Junction Field Office works closely with the City of Fruita to plan, build, and maintain trails.
"Without the BLM, mountain biking in Fruita would be non-existent," Bennett explains, "because the majority of Fruita's trails are on BLM-managed lands." Fortunately, both the BLM and the City of Fruita are deeply invested in the local mountain biking community, the city's focus on quality of place, economic health, and local lifestyle dovetails perfectly with the explosion of recreation tourism there.
Fruita is always seeking to better quantify the impact of mountain biking and tourism on the local economy, but Bennett points to a significant increase in sales tax revenue during the busy spring and fall seasons, when trailheads are full of vehicles with out-of-state plates and bike racks. The spike in revenue, he says, can be as high as 25% across all industries.
Local businesses like The Hot Tomato see the positive effects of mountain bike-centric tourism firsthand. The restaurant—which locals say has the best pizza and stromboli around—is owned by mountain bikers Jen Zeuner (a former pro rider) and Anne Keller (who's also a photographer). The Hot Tomato is central to the mountain bike scene: "I would be surprised to find a mountain biker who hit up the singletrack and not the Hot Tomato," Bennett says.
And the mountain biking scene has yet to plateau. The aforementioned groups have worked together to fundraise for environmental studies required for six additional miles of trail, now in the early stages of the construction process. They're also working to organize volunteers to build reroutes and new singletrack on the Mack Ridge area of the world-famous Kokopelli Trail system. Fruita was recently awarded $4.2 million in grant funds to add on to the Colorado Riverfront Trail, which connects Grand Junction and Palisade and also has access to the Kokopelli Trail.
In addition to its natural surroundings, Fruita's success is thanks in large part to its passionate, engaged community of locals. To maximize your mountain biking trip to Fruita, plan to visit during one of the approximately 30 events held in the city throughout the year, which range from local, homegrown events to international festivals to SUP races on the Colorado River.
Originally written by RootsRated for Choose Colorado.
Featured image provided by Zach Dischner