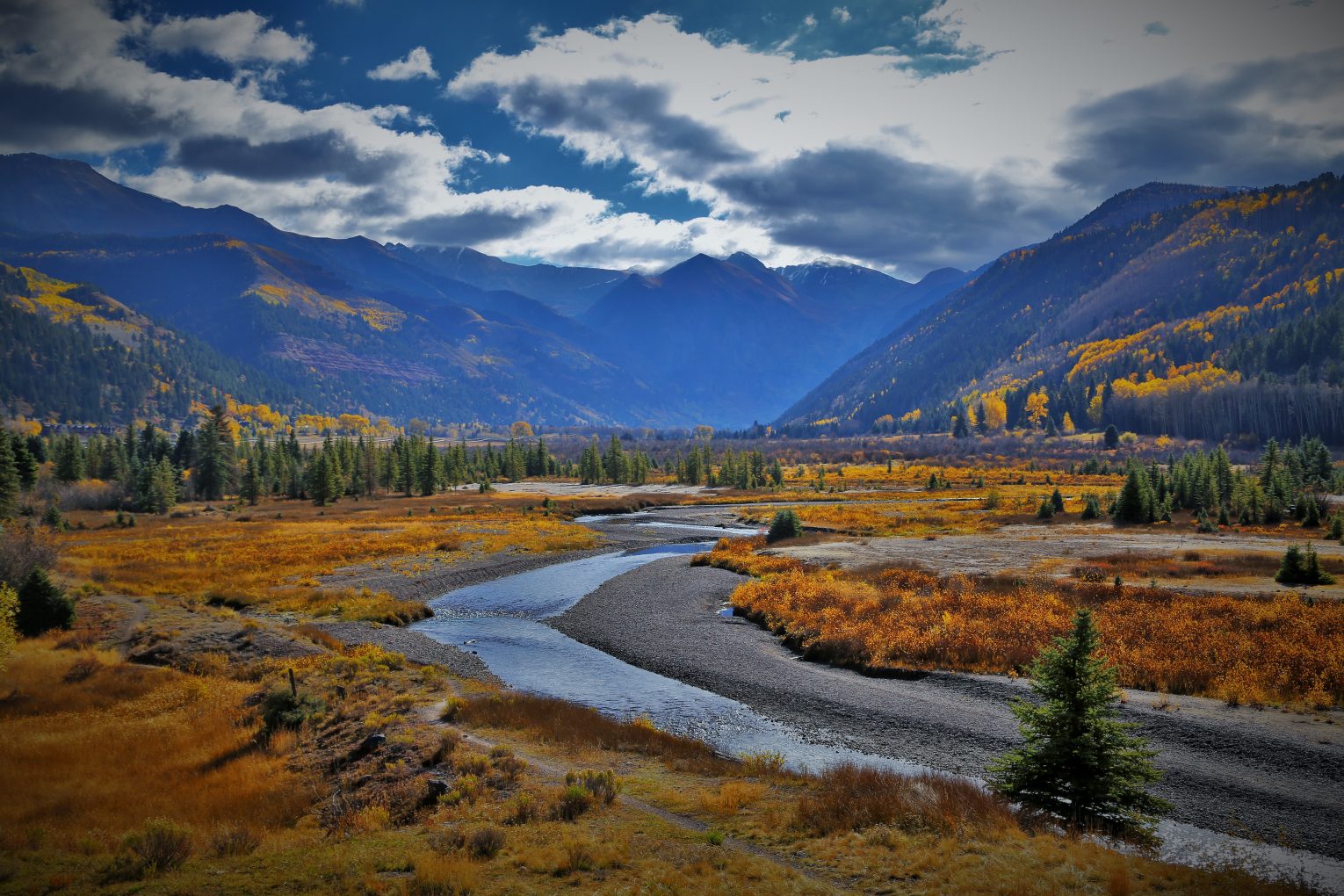 Soul of Telluride: The Arts Fuel Change (Again)
| Blog
In the 1970's, Telluride used the arts to springboard from ghost town to tourism mecca
Now, in "a moment of post-gentrification," local leaders see the opportunity to further leverage the town's creative assets.
Just off Main Street in downtown Telluride, there's the Free Box filled with clothes, housewares, books, rain gear — all free for the taking to anyone with a need.  Since it was set up by free-loving locals in the 1970's, it's been a kind of counterculture landmark in Telluride.  The day I visited, the Box was flanked by a pair of twentysomethings with dogs and guitars, playing for change as musicians have, in that very spot, for 40 years.
"Telluride in the 70's was a good illustration of what old-time ski towns were like before they became expensive pieces of property," says Jerry Oyama, a ceramic artist, and painter who moved to the area with his wife in 1980.  "There were dogs sleeping in the street all day.  There was a tofu factory.  Lots of empty spaces on Main Street.  All the streets except for Main were dirt and gravel.  There were lots of houses that were in need of repair.  It was a funky, exciting place."
The Free Box hasn't changed much since the '70's.  Not so for Telluride itself.  The former haven for ski bums and hippies, who took over a town all but abandoned when most mining interest left in the '50's and '60's, is now one of the country's most popular resort communities as well as one of the most expensive.  People, including some very wealthy and very famous people, come to Telluride in the winter to ski and snowboard, to maintain vacation homes, to see and be seen.  It's the rare small town where one might encounter, say, Francis Ford Coppola or Oprah in line for scones.
People also come to Telluride for music, for ideas, and art.  The Telluride Bluegrass Festival, which attracted about 1.000 people when it launched in 1974, now draws nearly 50,000 over three days.  Other major festivals, including the Telluride Film Festival, Mountainfilm and Telluride Blues and Brews, keep businesses, especially restaurants, and retail, flush with tourist dollars in the summer.
Between two extremes of Telluride's identity — ski town, festival town — is a steady cultural vibrancy that traces back to the days when the Grateful Dead played endless space jams for fans in Town Park, when Hollywood brought camera crews and actors to Main Street, that photogenic thoroughfare where a descending row of historic buildings disappears into stunning red mountains.
Telluride is home to an estimated 500 artists, a significant chunk of the population of full-time residents, which hovers just below 3,000.  In addition to mountain outfitters and pilates studios, downtown Telluride — designated a National Historic Landmark District in 1964 — is home to more than 20 galleries, most of which feature local and regional artists.  Venues, including the Victorian-era Sheridan Opera House and the new Michael D. Palm Theater, are programmed year round.  A professional ballet company, a well-regarded chamber music ensemble and the American Academy of Bookbinding, which draws students and artisans from around the world, are among the town's high-profile cultural assets.
The arts, like the San Miguel River, are just part of the landscape in Telluride.
Funky Folks and mushroom fests
"There are a lot of funky people, creative people who have been attracted to this area," says Art Goodtimes, a Telluride-based poet and founder of the Talking Gourds poetry program.  "It's been a slow accumulation of individuals who are particularly attached to some issue or art form that they brought with them and then turned into a festival.  Like, the Bluegrass Festival.  That just started out as a party.  People liked it so much; they just kept doing it.  Pretty soon you have four or five things like that — for film, for blues.  I'm involved with a mushroom festival that just celebrated 36 years."
Goodtimes is bearded, gregarious and, like most locals, deeply in love with Telluride.  Since he moved to town in the '80's, he's served, twice, as director of the Telluride Council on Arts and Humanities (now Telluride Arts) and, for the past 20 years, as a member of the San Miguel County Board of Commissioners.  You find artists like Goodtimes at every level of government in Telluride: Late painter Elaine Fischer, who passed away in June, served on the county commission with Goodtimes, on the Telluride Town Council, and as Telluride's mayor.
"People here see the value of the cultural renaissance in Telluride, whether they're development people or in politics or architects or whatever it is," says Goodtimes.  "There's support for it.  The town has a long tradition of giving money, grants for the arts. The infrastructure of support is there."
The data to back arguments about the value of that renaissance is there, too.  According to Americans for the Arts, creative industries represent nearly 1,000 local jobs and contribute more than $37 million in revenue.  In the peaks of summer, tax revenue from festival-related spending rivals that generated during ski season.  And when the lifts are open, winter sports drive traffic into Main Street galleries, cafes, and local breweries.
In 2012, Telluride was one of the first cultural hubs to be designated a Colorado Certified Creative District by Colorado Creative Industries.  The statewide initiative is designed to catalyze the arts as an economic force, in part to boost rural areas where traditional industries, such as mining and agriculture, have declined or disappeared. (There are now 18 such districts in Colorado.)
Telluride has a really strong and well-established and unique artistic tradition," says Margaret Hunt, director of Colorado Creative Industries.  "It's not only a resort community.  It has an authentic mining heritage and there's the Historic District overlay as well.  We really encouraged them to be true to their unique story; we don't want cookie-cutter districts.  We want to work with each one to recognize individual strengths and challenges."
Kate Jones, executive director of Telluride Arts, says Creative District certification helped focus the vision of her office, which oversees the district and operates three galleries and a below-market studio space for local artists.  The timing was good, too.  In some ways, Jones is in a race to build the future of the arts in Telluride, which starts with protecting the artists who live and work there now.
"We're in a moment of post-gentrification," says Jones. "Artists were a really big part of building the cultural community in Telluride.  The artists who moved in when miners were moving out started this organization, started the Film Festival, the Chamber Music Festival.  The arts were very integral in creating that high quality of life that has made Telluride such a hot place to visit and live.
"But inevitably the high cost of real estate follows," Jones continues, "and that is where we are.  We don't have a suburb, where our artists can afford to live.  We need our artists to stay here.  Part of my job is to figure out how to keep them here."
In Telluride, where the cost of housing is 147 percent above the national average, affordability is a constant concern.  Spaces to create, and public gathering places to display and share it, are limited, too.  Some, like artist Jerry Oyama, come to Telluride to show and sell work but live in other communities.
"Telluride is a regional idea," says Oyama who, with his wife in 1980, bought land in nearby Ophir, built a home and two studios for about $10,000.  "Often people in these outlier towns like Norwood, Placerville, and Rico are doing artwork.  I think art flourishes in places that are not so fancy, not so made up.  In those communities, it's still affordable for a middle-class family.  But even there it's getting much harder to find a rental.  And then you have to deal with this long phalanx of cars coming in and out of Telluride every morning and night.  It's become difficult."
"Securing our Soul"
Telluride Arts recently got the green light to move forward with the development of the Transfer Warehouse, a former shipping and receiving center that dates to 1905 and now sits on a roofless shell at Pacific and Fir streets.   If all goes according to plan, the $12 million project will open in 2019 as a space for exhibitions, performances, events, artist residencies and community collaborations.  History Colorado is among the projects' first funders.
"The idea is to build the heart of the arts district, its core, in a way that will create synergy and advance and articulate the district in a way that we haven't yet seen," says Jones.  "We heard from the community; there is a need for physical space that can be shared, and by providing it, we believe there will be a galvanizing effect."
She adds, "This arts district has been good at letting people know they are part of something, the fabric of our community.  This warehouse is really going to be the physical manifestation of that."
The Transfer Warehouse is envisioned as one of three pillars in a new "Golden Triangle" cultural hub, to also include the existing Wilkinson Public Library and a new city-owned building that would house public parking, 10-12 affordable housing units and the new home of Ah Haa School of the Arts and its Telluride Painting School.  That building would also require a multi-million dollar capital campaign as well as voter approval.  So far, the town has been supportive.  The move would allow Ah Haa to expand its already robust calendar — and to employ more regional artists as instructors.
"The downtown area of Telluride has really been lacking a core for the exciting cultural and commercial enterprises that happens here," says Judy Kohin, Ah Haa's executive director.  "In our case, locals know about us, but a lot of visitors, they walk Main Street,  but they don't'  know about all of the other things that are a little out of the way.
"This is going to be a fantastic place for people to get involved with all that is going on in Telluride," adds Kohin. "It will really unify the arts in Telluride."
Jones is undaunted by the $12 million she has to raise for the Transfer Warehouse project.  Telluride people understand that it's about much more than just a building.
"We're trying to really show how important the arts are to our community, really making it a part of Telluride's identity," she says. "There are a lot of people who love Telluride very much, and they understand how important that is.  It's about something big.  It's about securing our soul."