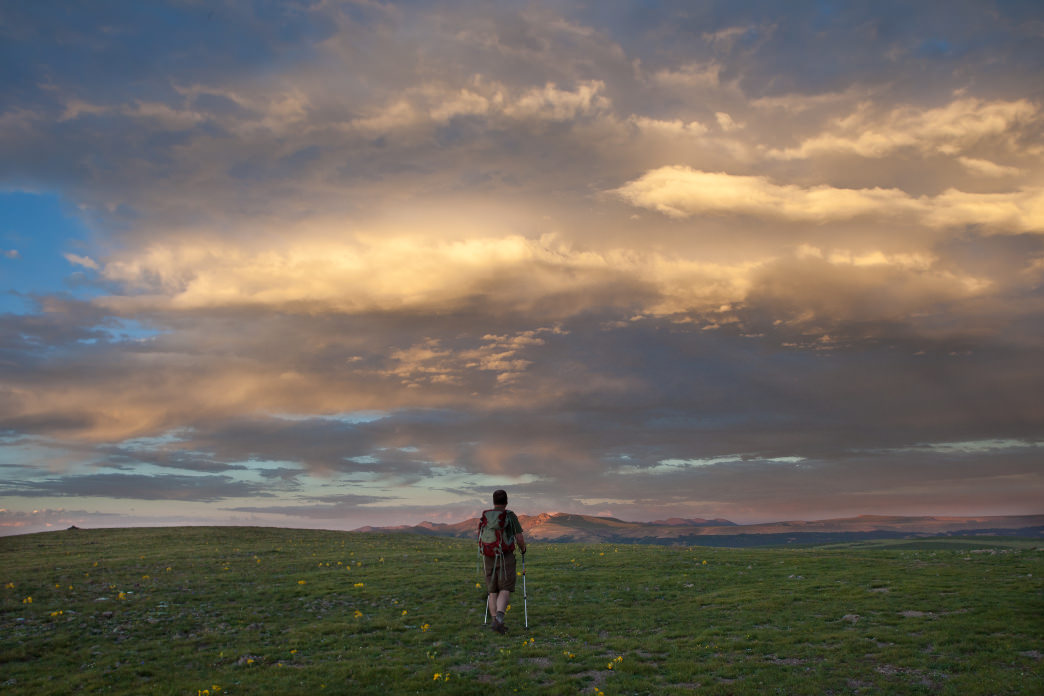 How Healthcare and Hiking Go Hand in Hand in Colorado: The Story of Porter Storey
| Blog
When Porter Storey decides he's going to do something, he fully commits. This is true of his career in the medical field. Storey was hired by a hospice right out of residency and went on to become a decades-long leader in hospice and palliative care. It also applies to his pastimes—when Storey got into thru-hiking, he read an article by Ray Jardine in Backpacker magazine about ultralight gear, and promptly set about making his own and putting it to use.
Work and play have long been intertwined for Storey, thanks in large part to a can-do attitude. His first interaction with downhill skiing, for example, was while on an orthopedic rotation in Lake Tahoe, where he treated countless patients who'd broken their legs just above their downhill ski boots. It was with those fractures in mind that Storey opted for cross-country skiing, instead. He joined the Stanford Nordic team to boost their numbers, eventually learning to telemark as he finished medical school there.
After med school, Storey landed in Houston. Shortly thereafter, a geriatrics rotation in the U.K. introduced him to the then-new field of hospice care, and he was hooked.
"It was intensely rewarding," he says of his career in the field, "and [the field] drew wonderfully open-hearted, skillful professionals." Storey would spend the next several decades working as a hospice physician—providing care to keep terminally ill patients as comfortable as possible—as well as performing clinical research and consulting with hospices to improve the field of palliative care.
During this time, Storey's professional resume wasn't the only one growing. He was compiling an impressive list of outdoor accomplishments. Already a graduate of the National Outdoor Leadership School (NOLS), Storey continued to use hiking to establish balance with his incredibly stressful career. He didn't just stroll in the woods. To date, Storey has completed the Pacific Crest Trail, the Continental Divide Trail, and 1,200 miles of the Appalachian Trail.
For each thru-hike, Storey worked to cut his base weight by following Yosemite big wall climber and ultralight hiking guru Ray Jardine's example. On the PCT, Storey's base weight was 11 pounds—significantly lighter than the thirty-plus-pound packs many hikers lug with them.
Of course, both Storey's illustrious career and his many thru-hiking adventures were filled with ups and downs. Hospice care is inherently filled with patients in terrible distress, and Storey cites their peaceful deaths or unexpected recoveries as the high points of his career. The low points, he says, occurred when he and his team couldn't do enough to help their patients.
"When Porter wasn't obsessing about gear or the hospice," his beloved wife, Gail, remembers in her memoirI Promise Not to Suffer: A Fool for Love Hikes the Pacific Crest Trail, "his inner life tended toward the ecstatic." Many of the best and worst parts of the Storeys' PCT experience are detailed in Gail's book, which won the National Outdoor Book Award in 2013 and the Colorado Book Award in 2014.
Storey spent much of his PCT hike contemplating his next career move, though he needn't have worried. While he was on the trail, Storey heard of a part-time job at the American Academy of Hospice and Palliative Medicine (AAHPM)—via satellite phone—and managed to schedule an interview for a time he'd be near a phone booth.
Storey got the job, and he and Gail spent the last years of his career in Boulder, where he worked for AAHPM and as a palliative care consultant for Kaiser. This wasn't his first time in the Centennial State. Storey's Colorado connection goes all the way back to his childhood, when he and his family would take a train from Dallas to Estes Park to ski each New Year's Eve.
"The real question," he laughs, asked how he ended in up in Colorado permanently, "is how I managed to stay in Houston for 25 years!"
Storey is retired now, and planning his next big Colorado adventures, including a Tenth Mountain Division Hut ski trip he's leading with his son next spring and riding up Waldo Canyon with** **the new bike he's getting to celebrate his 65th birthday. He's no stranger to the concept of aging. He mentions the John Muir quote he wants read at his funeral in the same breath as his upcoming hut trip.
"I see birth and death as part of the cycles of life that are inherently beautiful," he says. Being in nature during his career and now in retirement, he explains, has allowed him to get in touch with the cycles of life: the seasons, times of day, cycles of the moon. In this newest phase of his life, Storey isn't slowing down—he hit (and completed) the Continental Divide Trail to celebrate his retirement.
Originally written by RootsRated for Colorado.
Featured image provided by Bob Wick, BLM California