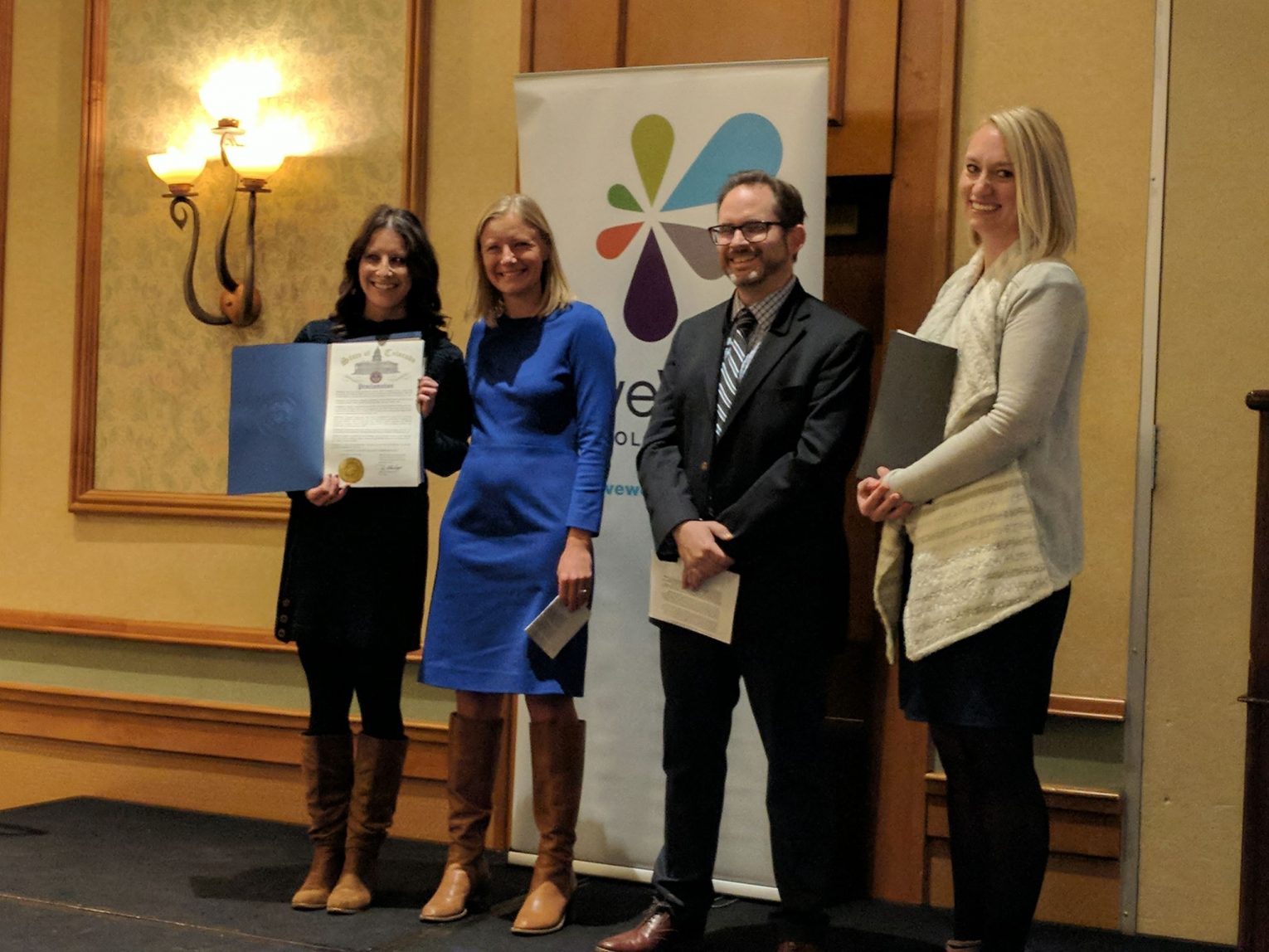 Garfield County wins Governor's Healthy Community Award
| Blog
After years of impactful and effective measures to improve the health of its population, Garfield County is the first community to receive the Governor's Healthy Community Award, presented by the Colorado Office of Economic Development and International Trade (OEDIT) and LiveWell Colorado.
In it's inaugural year, the Governor's Healthy Community Award is part of the OEDIT statewide initiative, "For Colorado: For the Health of It!," focused on integrating health and wellness into the places Coloradans live, work and play. OEDIT partnered with LiveWell Colorado's HEAL Cities & Towns Campaign to highlight a community that is working in all sectors to encourage healthy living across community support networks.
It hasn't always been easy for the county of about 58,000, but Garfield County has worked tirelessly to make healthy choices accessible, easy and in demand. With a healthier population, economies can be more productive and attract more businesses to communities, as well as decreasing healthcare costs and absenteeism. For the county, whose average per capita income is more than $26,000 lower than the state average, this isn't just a matter of healthy choices, but a matter of economic growth as well. The region's overweight population has increased three percent in the past five years to 65 percent, with a 20 percent overweight or obese rate in children. Among those who earn a lower income, that rate in adults increases to 74 percent, 33 percent of whom are obese. To combat these growing problems, Garfield County focused its efforts on health disparities in active living, healthy eating and health equity.
"There is a wide income gap between the communities within Garfield," said Dana Wood, Garfield Healthy Communities Coalition Coordinator. "While Silt, Rifle, Parachute, and Battlement Mesa have higher rates of poverty, they have fewer resources to combat it, such as nonprofits, family resources or adequate public transportation."
In an effort to increase active living throughout the county over the past five years, Garfield County Public Health (GCPH) has led and supported the installation of bike- and pedestrian-friendly infrastructure, increasing access to trails and bike lanes, as well as placing bike safety signs on county roads for the first time. GCPH specifically focused on opening up these areas for low-income residents, many of whom live in apartments or trailer-homes with very limited access to parks and walking paths.
Meanwhile, the focus on increasing healthy eating gained momentum through programs like Women, Infants and Children (WIC) Farmers Market Bucks Program, the Gleaning Project and Cooking Matters. These programs encourage healthy eating by supplementing food budgets, providing more nutritious foods to areas with high free- and reduced-lunch populations or by creating healthy behaviors and shopping habits.
"Usually, health efforts are defensive in nature, but our health efforts have shifted to be offensive and intervening with people to change their lifestyle for the better," said Tom Jankovsky, Garfield County Commissioner. "The health of the community is defined by the health of their workforce and education – and these programs are touching all these points."
A partnership with Cultivando, a leadership and advocacy organization from Commerce City, CO, has been helpful in fostering healthy habits as well. Nearly 30 percent of Garfield county's population is Hispanic, many of whom are lower income second-language learners, with limited access to healthcare. In September 2017, Cultivando conducted a four-day leadership training workshop for 25 Hispanic women in the community. Participants learned the basics of healthy living, how to empower one-another, and how to take control of their health and the health of their families.
Rosa, a participant of the Cultivando program, said that she uses lessons she learned during the training with her family everyday. More importantly, access to Cultivando encouraged Rosa to start "Mujeres en Acción," a group of 10 women in Rifle, working to better integrate Hispanic mothers and fathers into the education system and community.
Partnerships have been vital to Garfield County's health initiatives. Garfield County has collaborated with 24 different entities to promote everything from workplace wellness initiatives, to healthier food donation policies and training programs. Many of these partnerships support health interventions in schools, including wellness coordinators in school districts and a mobile school lunch program that provides nutritious foods and fresh fruits and vegetables to areas with high free and reduced lunch populations.
"The programs they are doing at the youth level, such as the GOCO Inspire Initiative, are huge opportunities for kids. Its transformative for these communities. They are intervening with youth at an early age to teach them the value of physical activity, outdoor recreation and a strong work ethic," said Jankovsky.
Collaborations have also supported others in expanding healthy initiatives. The Valley Well Workplace Partnership (VWWP) is one such collaboration. Seven public and nonprofit employers in the county: City of Rifle, Colorado Mountain College, Garfield County, Grand River Health, Mountain Family Health Centers, Mountain Valley Developmental Services, and the Roaring Fork School District have received technical assistance to expand wellness programs and offerings for their employees. Each of these entities lacked funding for technical assistance for wellness programming, while employing over 2,000 in the region. Agencies received individualized technical assistance from Colleen Reilly Consulting and Colorado Health Links, and have since become leaders in the community for increased wellness in the workplace.
"Overall, many positive things have come out of our healthy living initiatives. We are helping to build a strong foundation for health through our programming. Our work helps to provide other organizations with the tools, resources, and support they need to become more autonomous and sustainable." said Yvonne Long, Garfield County Public Health Director. "As we move forward with our regional improvement plan for the next four years, our major focuses will be on mental health issues involving opioid use, housing and water quality."
Garfield County's efforts have led to a cultural change, creating a demand amongst the population to have access to healthy lifestyle choices. The county has embraced health and wellness as an economic driver and is working hard to give a voice to residents that are struggling to be heard. By taking the health of its population seriously, Garfield County is on the way to making big strides in the health and wellness of the population.