EDC Board of Directors
Carrie Schiff – Chairman
Carrie Schiff is a business lawyer specializing in corporate and transactional matters. As both a seasoned business executive and outside counsel, Carrie has participated in the development and execution of commercialization strategies for a range of companies, from global multinational companies to start-ups, in industries ranging from telecommunications to organic food. Prior to co-founding Sage Law Group, Carrie was Chief Legal and Risk Officer and Chief Compliance Officer of MWH Global, Inc., a leading multinational, employee-owned civil engineering and construction firm based in Broomfield. Before joining MWH, Carrie served as SVP, general Counsel and Chief Compliance Officer of Flextronics International, Ltd. (Nasdaq:FLEX), a leading global electronics manufacturing services company. Carrie's past in-house experience also includes serving as SVP, Corporate Development and General Counsel at USA.NET, Inc. in Colorado Springs.
Carrie came to Boulder to open the Colorado practice of Cooley LLP in 1993. Carrie was a member of the Board of Directors of the Colorado Chapter of the Association of Corporate Counsel and was a recipient of the Legends in Law Burton Award in 2008.
Jandel Allen-Davis – Commissioner
Jandel Allen-Davis, M.D. is the CEO and president of Craig Hospital in Denver, Colorado, a world-renowned rehabilitation hospital that exclusively specializes in the neuro-rehabilitation and research of patients with spinal cord and brain injuries. Dr. Allen-Davis was the vice president of government, external Relations and research for Kaiser Permanente Colorado from 2009-2018. In that role, she led the organization's government relations and regulatory affairs, community relations and community benefit investment, clinical research activities, stakeholder engagement, communications, and advertising and marketing functions.
Dr. Allen-Davis is board certified in obstetrics and gynecology and was in active practice for 25 years. A graduate of Dartmouth College and Dartmouth Medical School, Dr. Allen-Davis completed her residency at Thomas Jefferson University Hospital in Philadelphia. Dr. Allen-Davis is an active participant in the community and currently serves on the boards of Denver Botanic Gardens, the Denver Metro Chamber of Commerce, National Jewish Health, Mile High United Way and the Geisel Board of Advisors at the Geisel School of Medicine at Dartmouth. She is married to a Dartmouth College graduate, Anthony Davis ('82), and they have two children, one of whom graduated from Dartmouth College in 2009. She enjoys gardening and hiking and is a fiber artist whose work has been displayed in several galleries over the years.
Rob Brown – Commissioner
Rob Brown is the executive director for Fremont Economic Development Corporation located in Cañon City, Colorado and is using his experience and capabilities to build economic capacity for rural southern Colorado.  Rob is an accomplished entrepreneur, team builder, facilitator and corporate problem solver.  His specific areas of professional focus are automotive repair information systems, new business development, computer aided design concepts and factory automation strategies.
Rob is a four generation Colorado native and takes a great deal of pride in continuing his family's legacy in the state.  His family first settled in Elbert County in 1868 and has been active in enhancing the quality of life in Colorado through their various endeavors, since that time.  Rob is a pioneer in spirit and routinely encourages inventors and entrepreneurs from outside the state to bring their innovative ideas and concepts to Colorado to secure their individual legacies as well.
Rob is a past national standing committee chairman for the Society of Manufacturing Engineers (SME), an Eagle Scout and a recent North Star Award winner, the highest award given to a civilian by the Boy Scouts of America.  As a dedicated community leader and volunteer, Rob has worked in numerous capacities with local government, civic boards and not for profit organizations during his career.
David Dragoo – Commissioner
David Dragoo is a Colorado born entrepreneur, and founder of several businesses with a background specializing in manufacturing and real estate. David is the President of Mayfly, an outdoor products company and Certified B® Corporation proudly based in Montrose, Colorado. The company's brands include fly fishing tackle businesses Abel®, Ross Reels® and Airflo®. The company employs over 100 people with operations in California, Colorado, and the United Kingdom. Additionally, David leads the Colorado Outdoors project in Montrose, Colorado, a 164-acre public-private partnership aimed to revitalize the community and restore the local riverway. In this capacity, he works closely with venture capital partners, local public entities, and conservation organizations.
David earned a bachelor's degree from the Georgia Institute of Technology in 2009. He was honored in 2019 as one of the Top 5 most influential young professionals in Colorado by ColoradoBiz magazine, and recognized by former Gov. John Hicklenlooper on the Senate floor in 2018. David is passionate about the outdoor industry, public lands, and river conservation. He lives on the Western Slope with his wife Heidi and their dog Remy.
Benita Duran – Commissioner
Benita Duran is a 5th generation Colorado native raised in Pueblo and currently living in Boulder. She has extensive professional expertise in community engagement and organizational capacity building, government affairs and workforce development arenas throughout the southwest.
Early in her public sector career Benita was an aide to Denver Mayor Federico Peña, where she was responsible for city employee programs, neighborhood outreach and the construction employment efforts in the building of DIA. Her municipal management interests prompted her move from Denver to Boulder for a position in the City Manager's Office. She served as Assistant City Manager of Boulder for over eight years. Recently, Benita directed the outreach and engagement program for the Denver Public Schools (DPS) 2008 and 2012 general obligation construction bond program. She also served as the government liaison between DPS and the City and County of Denver. Prior to this, she was the Vice President and Director of Southwest Regional Government Affairs at CH2M Hill.
Duran is an active member of the community and has served on over 15 nonprofit organizations' board of directors in Denver and Boulder. She is a past chair of the Mi Casa Resource Center Board of Directors, as well as past chair of the Board of Trustees of the Community Foundation Serving Boulder County. Duran also served on the International City and County Management Association (ICMA) Board of Directors as the Mountain Plains Vice President, a professional association of city/county public sector managers. She is presently on the Board of Directors of Boulder Community Health, the Boulder Shelter for the Homeless, and National History Day Colorado. She is a member of the Colorado Women's Forum and the International Women's Forum.
Duran graduated from the University of Denver with degrees in Economics and Public Affairs. She earned a Master's Degree in Public Administration from the University of Colorado at Denver.
Chris Franz – Commissioner
Chris Franz is the managing director of Pioneer Fund.  Chris has over 20 years of experience in building and scaling high technology, high growth companies. Chris has founded more than 10 startups focusing on emerging technology, data analytics, SaaS software and data center systems. He has built companies funded by venture capital, angel capital and bootstrapping. He is a respected mentor, board member and leader of the startup movement in Colorado. Chris has run technology organizations with budgets from nearly nothing to $3.5B and enjoyed all of them. He has managed multiple investment funds focused on Colorado start-ups and has served on numerous start-up and non-profit boards to drive the entrepreneurial ecosystem including the boards of Startup Colorado and Peak Startup. Chris holds a Masters degree from Stanford University and a Bachelors from Worcester Polytechnic Institute. Chris is passionate about driving economic opportunity and diversity through startups. Plus, he just loves Colorado.
Blake Jones – Commissioner
Blake Jones is a cooperative entrepreneur with almost two decades of experience in the renewable energy industry. He is a co-founder of four cooperatives: (1) Namasté Solar, an employee-owned cooperative and certified B-Corp that has installed over 7,000 solar electric systems totaling over 100 MW of generating capacity; (2) Clean Energy Credit Union, a federally chartered and online-only credit union that provides loans solely to help consumers throughout the USA afford to purchase clean energy (and energy saving) products and services; (3) Amicus Solar Cooperative, a purchasing cooperative and certified B-Corp that is democratically owned by 50+ solar installation companies throughout North America; and (4) Kachuwa Impact Fund, an investment cooperative and impact investing fund with multiple impact themes including renewable energy, cooperatives, certified B-Corps, and companies owned by women, people of color, and/or employees. Blake is an Ernst & Young "Entrepreneur of the Year" award recipient (2010) and has a BE in Civil Engineering from Vanderbilt University.
Wendell Pryor – Commissioner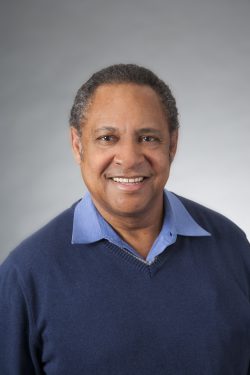 Wendell Pryor is a Colorado native and currently the Director of the Chaffee County Economic Development Corporation. He has been an Adjunct Professor/Lecturer with the University Of Colorado School Of Public Affairs, and Senior Fellow for Diversity and Inclusion; he also taught in the California State University System. He retired as the State of Colorado Civil Rights Director, is a former lobbyist, and a social entrepreneur. He served as the Chair of the Foundation Board (now Next 50) and a member of the Board of Directors for Innovage, a senior care organization. He was appointed by Governor Hickenlooper as a Trustee for Adams State Colorado University.
Regarding past employment, Wendell worked in State government for the Department of Labor and Employment, and Personnel, and has served as the Human Resources Director for the following local governments, City and County of San Francisco; City of Oakland, California; City of Riverside, California; Aurora, Colorado; and Acting Director of the Denver Career Service Authority. He was the Executive Director of the Colorado Association of Public Employees when he returned from California. Mr. Pryor Co-Chaired the Administration Transition Team under Governor Elect Ritter. He has a law degree from the University of Denver, Masters in Public Administration from the University of Colorado, and undergraduate degree from Western State Colorado University.
Jay Seaton – Commissioner
Jay Seaton is the publisher of The Daily Sentinel in Grand Junction, Colorado. Jay also oversees several local publications in western Colorado.
Prior to his arrival at the Sentinel in August 2009, Jay was a corporate and commercial litigation partner at the law firm of Lewis Rice & Fingersh in Kansas City, Missouri. Prior to his position at Lewis Rice & Fingersh, Jay worked in toxic tort litigation at the law firm of Shook Hardy & Bacon.
Jay is former chair of the Grand Junction Economic Partnership and serves on the boards of the Riverside Education Center, the Saccomanno Higher Educatin Foundation, St. Mary's Hospital Foundation and Rocky Mountain Health Plans. Jay is also a member of The Colorado Forum. Jay holds a bachelor's degree from the University of Wisconsin at Madison and received his juris doctorate from Kasas University in 1996.
Becky Takeda-Tinker – Commissioner
Dr. Becky Takeda-Tinker is dedicated to individual workplace success at living wages and organizational-industry leadership though innovation, higher education, and technology. Her roles in business, governance, and education reflect her diverse and global experience that continues to champion data-driven, research-based, and calculated-risk analyses approach to solving complex challenges.
Becky is currently the president and CEO of Colorado State University-Global, the nation's first and only 100% online, independently accredited, state, nonprofit university; and which operates without the benefit of state financial support. She is also an active board member for the Colorado Business Roundtable, Haselden Construction, College Track Colorado, and the Women's Forum of Colorado. She previously served on the boards of the National Office of the Small Business Development Centers, and Vital for Colorado.
Gretchen Wahl – Commissioner
Gretchen Wahl brings over 25 years of diverse banking experience to First National Bank and her clients. She has accomplished executive roles in commercial banking with a prior emphasis on C&I lending. Gretchen has a Bachelor of Science degree in Management from Penn State University and has completed the Stonier Graduate School of Banking through the American Bankers Association. Leading a team of dedicated community relationship managers, Gretchen fosters deep relationships in the regions she serves. In her role, she makes sure that her commercial clients have simple and efficient access to the services and financing they need to run a profitable operation. Her focus is straightforward and clear: support businesses and you support the community.
Her dedication to her profession and her clients has been documented through the receipt of several honors, including recognition as a 40 under forty honoree and a Boulder County Regional Young Careerist. She is also a Leadership Boulder graduate and a member of the Boulder Economic Development Council.
Betsy Markey – Executive Director, OEDIT
Betsy Markey was appointed by Governor Jared Polis to his cabinet as Executive Director of the Colorado Office of Economic Development and International Trade in January 2019. She has over 30 years of leadership experience in government and the private sector. She has served as a Member of Congress, a senior federal executive, and the co-founder and CFO of a high tech company.
Betsy was appointed by President Obama to serve as the Regional Administrator for the U.S. Small Business Administration (SBA) based in Denver. In this capacity she oversaw the delivery of the agency's small business programs and services in Colorado, Montana, North and South Dakota, Utah and Wyoming. Previously, she was appointed by the President as the Assistant Secretary for Intergovernmental Affairs for the U.S. Department of Homeland Security (DHS) in Washington DC. Betsy was elected to Congress in 2008, and served Colorado's 4th Congressional District on the Committee on Transportation and Infrastructure and the Committee on Agriculture.
In the late-1980's, Betsy and her husband launched a successful technology company, Syscom Services, which was one of the first companies to market email, and subsequently expanded into the area of web design and web-based information management systems. The firm has been ranked in the Inc. 500 listing of America's fastest-growing private companies. She participated in the sale of the company to a group of investors. During that time she also owned and operated a coffee shop in Fort Collins.
Jeff Kraft – Director of Business Funding and Incentives – EDC Manager
Jeff Kraft, a Colorado native, is the Director of Business Funding and Incentives for the Colorado Office of Economic Development and International Trade. After graduating from high school in Colorado, he spent more than twenty years on the east and west coasts in Boston, New York, Washington, DC and San Francisco but is very happy to be back living in the Centennial State. Previously Mr. Kraft was an executive in the wireless industry working at companies from the Fortune 20 (AT&T) to small start ups. Mr. Kraft holds a BA in Economics and Political Science and Masters' of Public Policy and Real Estate degrees.