City of Montrose awarded Governor's Healthy Community Award 2018
| Press Releases
DENVER | Montrose, Colorado  – Thursday, Nov. 29 – The City of Montrose, located in southwestern Colorado, is the 2018 Governor's Healthy Community Award winner. The Colorado Office of Economic Development and International Trade (OEDIT) and LiveWell Colorado will honor representatives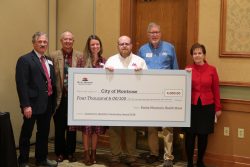 of City of Montrose today at LiveWell's Healthy Eating Active Living (HEAL) Summit for their collaborative efforts toward community wellness, while impacting economic vitality.
City of Montrose, a community of more than 19,000 residents, was selected as the 2018 award-winning community for its holistic community health efforts across active living, food access, economic development, workplace wellness and health equity through various collaborative projects. Community input and involvement combined with city leadership has led to momentous success for various projects including the Montrose Recreation Center, Sharing Ministries Food Bank, Montrose Urban Renewal Authority Project and PIC Place, each creating opportunities for all citizens despite economic standing.
"The efforts to make the City of Montrose a healthy community has been a collaborative efforts across a large amount of organizations and community involvement to create a healthy environment for all citizens, regardless of economic standing," said Roy Anderson,  Mayor of City of Montrose.
"The City of Montrose sets the gold standard for providing access to healthy eating, active living and workplace wellness," said Governor John Hickenlooper. "The leadership and residents of Montrose have shown great commitment to their community with this comprehensive approach to health and wellness. I am thrilled to congratulate City of Montrose as the winner of the 2018 Healthy Community Award."
"This award is for the entire community –  residents, nonprofits, business owners, schools, city and county officials and staff, as well as all of the organizations that collaborate for a healthier community. The residents deserve a ton of credit –  their voting yes on various measures such as tax credits and levy's has led to continuous improvement of the community, impressive results and a transparent relationship between the city and residents," said Kendall Cramer, Grant Coordinator for the City of Montrose.
As the 2018 award winner, City of Montrose will receive a $4,000 monetary award, contributed by Rocky Mountain Health Plans, to further enhance community wellness efforts and a Governor's proclamation honoring their efforts as the healthy community award winner. Rocky Mountain Health Plans sponsored the award's monetary prize in support of its mission to improve the health and well-being of its Colorado neighbors and communities.
About Colorado Office of Economic Development and International Trade
The Colorado Office of Economic Development and International Trade (OEDIT) works with partners to create a positive business climate that encourages dynamic economic development and sustainable job growth. Under the leadership of Governor John Hickenlooper, we strive to advance the State's economy through financial and technical assistance that fosters local and regional economic development activities throughout Colorado. OEDIT offers a host of programs and services tailored to support business development at every level including business retention services, business relocation services, and business funding and incentives. Our office includes the Global Business Development division; Colorado Tourism Office; Colorado Outdoor Recreation Industry Office; Colorado Creative Industries; Business Financing & Incentives division; the Colorado Small Business Development Network; Colorado Office of Film, TV & Media; the Minority Business Office; and the Colorado Innovation Network. Learn more at www.choosecolorado.com.
###