City of Aurora Eager to Educate About Opportunity Zones
| Blog
Originally published by Colorado Municipal League in Knowledge Now Opportunity Zones, March 2019
EAGER TO EDUCATE ABOUT OPPORTUNITY ZONES
By Julie Patterson, Aurora senior communications strategist
When the federal Opportunity Zone program was officially announced, the City of Aurora and its partners seized the opportunity to promote another economic development tool that would encourage investment in underserved areas.
"Education is key to our success," said Yuriy Gorlov, vice president of the Aurora Economic Development Council, which collaborated with the City from the start to identify potential zones in Aurora that fit the foundational criteria and were strategically positioned to attract development. "This is a federal program, but it is important for businesses and property owners to understand our development process so they can take full advantage of the federal tax benefit they can receive."
Aurora's five opportunity zones are purposefully diverse, representing a mix of infill, redevelopment, and greenfield areas. The three zones flanking East Colfax Avenue represent the opportunity for redevelopment; the Metro Center zone that sits close to the Aurora Municipal Center at the City's core is primed for infill; and the large area adjacent to the south of Denver International Airport in the aerotropolis with its ample, open land is one of the most promising greenfield development opportunities in the region.
In addition to hosting several joint information sessions with the Colorado Office of Economic Development & International Trade and the Aurora Economic Development Council, the City of Aurora launched a website, auroraopportunityzones.org, to highlight the five zones in Aurora. The website provides mapping tools, links to City vision documents such as urban renewal plans, and other related information.
"Collaborating with other agencies and jurisdictions has been important from the start," Aurora Deputy City Manager Jason Batchelor said. "Even before the zones had been identified in Aurora, we worked closely with the Aurora Economic Development Council and representatives with the program to identify those underserved Census tracts that had more commercial development potential. We continue to work with AEDC to market the program to property owners."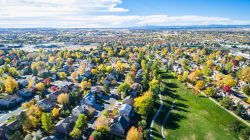 County leaders have attended the Aurora information sessions, and City staff has reached out to neighboring jurisdictions with abutting zones to discuss potential opportunities for collaboration in those areas.
"It is important for us to work together to maximize the prospects for everyone who can benefit in the region," said Vinessa Irvin, Aurora Office of Development Assistance manager.
She has received information from companies assembling Opportunity Zone investment funds, and is able to share that information with developers looking for investors as well as provide the investment fund information regarding specific areas or types of projects in which they may be interested in investing.
"This is really about letting people know this new economic development tool exists and creating the right connections for people," Irvin said.
While four of Aurora's five Opportunity Zones are mostly undeveloped land, one zone south of East Colfax Avenue has a lot of existing commercial development. In that area, it is going to be essential for the City to conduct outreach to businesses, property owners, and nearby residents who can benefit from potential redevelopment, Batchelor said.
The City will hire a consultant this year to look at the current land uses and potential for this zone, and gather feedback from the Aurora City Council and residents on the kind of commercial development they want to see in that area.
"This will be a community-driven process, and one more way for us to provide education about the federal Opportunity Zone program," Batchelor said.