Checkr chooses Colorado as second headquarters
| Press Releases
Background check innovator begins hiring process for new Denver office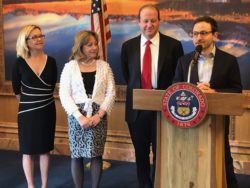 DENVER – April 16, 2019 – Checkr Inc., the leading provider of modern and compliant background checks, has selected Denver as home for its second headquarters. Checkr's pioneering AI-powered approach to background checks enables fast, accurate, compliant and secure screening of candidates, contractors and third parties at the pace of business.
"Checkr is a dynamic industry disruptor and we are pleased to welcome a company whose values are as thoughtful as their business technology solutions," said Colorado Governor Jared Polis. "With Checkr's commitment to fair chance hiring, these new 1,500 high quality jobs over a period of 10 years will provide Coloradans with diverse backgrounds and skills meaningful opportunities for years to come."
Founded in 2014, Checkr has been widely recognized for their innovative approach to background checks and the rapid adoption rate of its technology.  With over 10,000 customers running more than 1.5 million background checks per month, Checkr joins a vibrant tech community spanning Denver's urban corridor that chooses to call Colorado home.
"Colorado is the perfect location for our second headquarters, and we are very excited to become a part of the vibrant Denver community," said Checkr Co-founder & CEO Daniel Yanisse. "We look forward to partnering with Governor Polis and other leaders to increase fair chance hiring and expand economic opportunities for Coloradans now and in the coming years."  
Checkr begins its Denver operations July 1, 2019 in a co-working space while finalizing a long-term location that supports their projected growth.
"As a forward looking technology company, Checkr provides innovative solutions to a traditional professional service platform," said Betsy Markey, executive director for Colorado's Office of Economic Development and International Trade. "The selection of Denver as their second headquarters also reinforces a national trend of tech companies prioritizing markets like Colorado that attract and grow a higher concentration of tech talent than our peer markets."
About Colorado Office of Economic Development and International Trade
The Colorado Office of Economic Development and International Trade (OEDIT) works with partners to create a positive business climate that encourages dynamic economic development and sustainable job growth. Under the leadership of Governor Jared Polis, we strive to advance the State's economy through financial and technical assistance that fosters local and regional economic development activities throughout Colorado. OEDIT offers a host of programs and services tailored to support business development at every level including business retention services, business relocation services, and business funding and incentives. Our office includes the Global Business Development division; Colorado Tourism Office; Colorado Outdoor Recreation Industry Office; Colorado Creative Industries; Business Financing & Incentives division; the Colorado Small Business Development Network; Colorado Office of Film, TV & Media; the Minority Business Office; and the Colorado Innovation Network. Learn more at www.choosecolorado.com.
– # # #    –